Dussehra Special: Opt for these tasty and wonderful recipes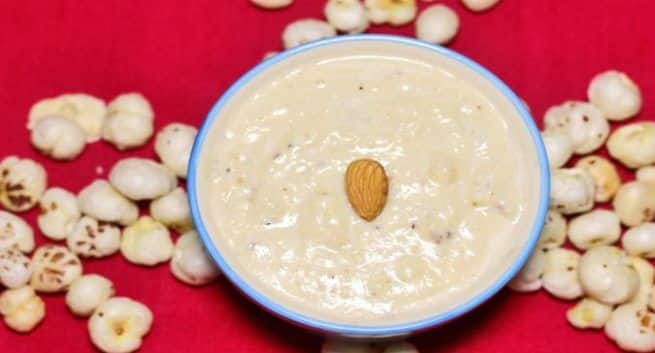 People come together and celebrate the Dussehra. So, just go for these magnificent recipes suggested by Neha Kanodia, Consultant Dietician, Columbia Asia Hospital Whitefield, which will be loved by your family members as well as you! These healthy recipes are worth trying! Also, make sure that you don't go overboard. Happy Dussehra to you all! Stay healthy and hearty!
Low-fat makhana (puffed lotus seed) kheer
Ingredients:
1litre skimmed milk
1/4th cup puffed lotus seeds
2 tbsp jaggery
2 tsp chopped pistachios
2 tsp chopped almonds
1tsp green cardamom powder
Method:
• You should take a deep vessel and pour the skimmed milk in it.
• Then, add those broken makhana seeds to the milk.
• Simmer the milk for about 2 hours without covering, till the milk boils and the seeds become soft.
• You should add jaggery and stir for a few minutes.
• Then, add chopped pistachios, almonds and cardamom powder.
• After Stirring well just serve it hot or cold.
Samwat rice upma (mordham rice/ barnyard millet)
Ingredients:
200g samwat rice (mordham rice/ barnyard millet)
1cup of grated coconut
1tsp of fennel seed powder
½ tsp of red chilli powder
2 finely chopped green chillies
1tsp cumin powder
1tsp lemon juice
Sendha Namak, as per taste
Some finely chopped coriander leaves
1tbsp ghee
Method:
• You should rinse the samwat rice and coarsely grind it.
• Heat ghee in a pan. and add fennel seed powder and cumin powder along with green chillies.
• Then, you must add rice. After that, add water till the rice is immersed.
• Then, add red chilli powder and sendha namak.
• You should cook the rice for 15 minutes until the rice is cooked.
• Add lemon juice and mix well.
• Garnish the yummy dish with chopped coriander leaves.
• Serve hot. Relish!